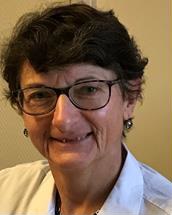 Department of Diabetology and Endocrinology
University Hospitals – Clinic Medicale B
CHU de Strasbourg – BP421 – 67091 STRASBOURG cedex – FRANCE
Phone (+33) 03 88 11 62 67/ 65 98
Fax (+33) 03 88 11 67 51
INSERM UMR 1260 – Regenerative Nanomedicine
Organ dysfunction and Transplantation
Faculty of Pharmacy- 74 rte du Rhin 67401 ILLKIRCH
Phone (+33) 03 68 85 42 10
e-mail : kesslerl@unistra.fr
laurence.kessler@chru-strasbourg.fr
Laurence KESSLER is Professor of Endocrinology and Diabetology at Strasbourg University Hospitals. His main interest is the management of type 1 diabetic patients and patients with secondary diabetes: post-transplantation and cystic fibrosis-related diabetes. She is particularly interested in the development of innovative therapies, including diabetes cell therapy, close loop insulin delivery and continuous glucose monitoring. She is head of the GRAGIL Swiss French pancreatic islet transplantation network.
She is in charge of the Organ Dysfunction and Transplantation research group within the INSERM UMR 1260 unit at the University of Strasbourg, created in 2018. His fundamental researches are focused on vascular and tissue stress in transplantation through the study of micro vesicles and cellular environment. Via the input of the MPs and the specific environment representing pancreatic islet transplantation, his research articulated around two axes: (i) the vascular alterations of islet graft and approaches for tissue repair (ii) the development of biomarkers for islet graft monitoring.
Main publications
-Kessler L, Bucher P, Milliat-Guittard L, Benhamou PY, Berney T, Penfornis F, Badet L, Thivolet C, Bayle F, Oberholzer J, Renoult E, Brun JM, Rifle G, Altan C, Colin C, Morel P. Influence of islet transportation on pancreatic islet transplantation in type 1 diabetic patients from the Swiss-French GRAGIL consortium. Transplantation, 2004,77, 1301-1304.
-Kessler L, Parissiadis A, Bayle F, Moreau F, Pinget M, Froelich N, Cazenave JP, Berney T, Benhamou PY, Hanau D; on behalf of the GRAGIL Study Group. Evidence for Humoral Rejection of a Pancreatic Islet Graft and Rescue with Rituximab and IV Immunoglobulin Therapy. Am J Transplant. 2009, 9, 1961-66.
–Kessler L, S. Bakopoulou, R. -Kessler, G. Massard, N. Santelmo, M. Greget, F. Moreau, O. Helms, D. Bosco, P. Gasche-Soccal , P. Wolf , T. Berney. Combined pancreatic islet–lung transplantation: a novel approach to the treatment of end-stage cystic fibrosis. Am J Transplantation, 2010, Jul;10(7):1707-12.
-Constantinescu AA, Gleizes C, Alhosin M, Yala E, Zobairi F, Leclercq A, Stoian G, Mitrea IL, Prévost G, Toti F, Kessler L. Exocrine cell-derived microparticles in response to lipopolysaccharide promote endocrine dysfunction in cystic fibrosis. J Cyst Fibros. 2013, 13(2):219-263.
-Gleizes C, Constantinescu A, Abbas M, Bouhadja H, Zobairi F, Toti F. Kessler L. Liraglutide protects Rin-m5f cells by reducing procoagulant tissue factor activity and apoptosis prompted by microparticles under conditions mimicking instant blood-mediated inflammatory reaction in pancreatic islet transplantation, Transpl Int. 2014 Jul;27(7):733-40
-Lablanche S, Vantyghem MC, Kessler L, and al ; TRIMECO trial investigators Islet transplantation versus insulin therapy in patients with type 1 diabetes with severe hypoglycaemia or poorly controlled glycaemia after kidney transplantation (TRIMECO): a multicentre, randomised controlled trial. Lancet Diabetes Endocrinol. 2018 Jul;6(7):527-532
-Kessler L. Treatment of cystic fibrosis-related diabetes. Lancet Diabetes Endocrinol. 2018 Mar;6(3):167-8
-Amoura L, El-Ghazouani FZ, Kassem M, El Habhab A, Kreutter G, Sahraoui S, Bosco D, Jessel N, Berney T, Benhamou PY, Toti F, Kessler L; GRAGIL/TREPID Network. Assessment of plasma microvesicles to monitor pancreatic islet graft dysfunction: Beta cell- and leukocyte-derived microvesicles as specific features in a pilot longitudinal study.Am J Transplant. 2019 Jul 18. doi: 10.1111/ajt.15534